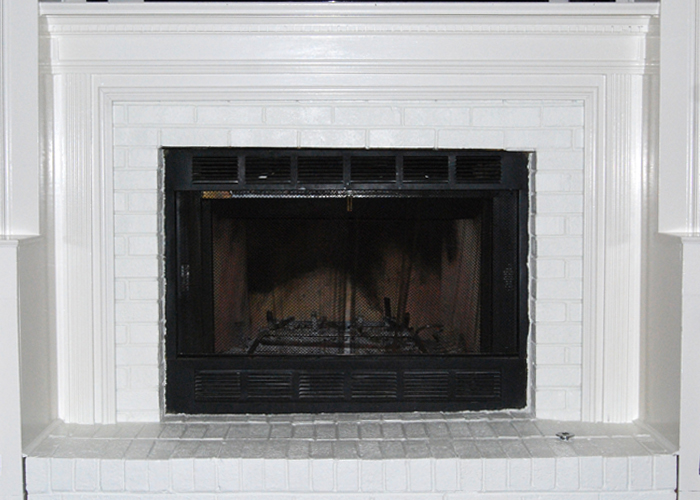 When work slows down because of the holidays or cold weather I know I need to act fast.. We try to keep our guys as busy as possible and that means the hubby lets me pull out my "To Paint" list. This was the case a few weeks ago when I had the opportunity to have my fireplace painted adding "A New Flare to a Fireplace". Oh, that dull outdated red brick wedged between two freshly painted alabaster book cases. If the old, cold rocks could talk they would say they're so jealous of those bookcases with their light happy color. They would say their ready for a change, that already beautiful in their original state, they would be enhanced by a fresh new hue. Why didn't I do this a long time ago!
Since this is a brick fireplace and bricks are porous, the paint adheres to the brick, therefore, priming the fireplace is not necessary. This particular brand of paint that was used, Sherwin Williams SuperPaint, is a self -prime product, another reason primer isn't needed. We used Sherwin Williams Interior Acrylic Latex SuperPaint in the color Alabaster in a semi-gloss finish. It took three coats  To get an even finish and it was dry in an hour. After painting, the fireplace still needed some added touches to make it look smooth and flawless. The gaps between the molding and trim were caulked with Sherwin Williams Powerhouse Sealant. Also sealed were holes in the grout between bricks. 
Painting the fireplace definitely gave my family room the upgrade I was looking for. By adding a this soft hue, the room still has it's traditional feel but with a fresh white color.